2019 promises to be the year that the gray walls you've been seeing everywhere are finally on their way out! One quick google about the wall color "gray" turns up a score of articles asking if the color is, in fact, over. After some research and taking a longer look at my own gray walls, I've come to the conclusion that the cool grays that have dominated walls for the past few years are officially dated. So, what's the next great trend in neutrals? The new neutrals are warmer and more complex than the cool grays popularized a few years ago. Below is a list of my favorite neutrals that feel SO right now.
The New Cream – Think of a frothy latte. This color is the perfect combo of warm white & light beige. Try Swiss Coffee by Benjamin Moore.
White – There are a million shades of white out there. But it's warm whites and white whites that feel so clean and modern right now. Try Whipped by Clare Paint.
Warm Gray – This is NOT the builder's gray of years past. This particular shade has a warmer tone. Also known as greige. You know you have a warm gray when it feels more taupe than blue. Try Classic Gray by Benjamin Moore.
Mushroom – This hue has more brown in it than your typical greige. It feels sophisticated and fresh especially when used as trim as shown below. Try Elephant's Breath by Farrow & Ball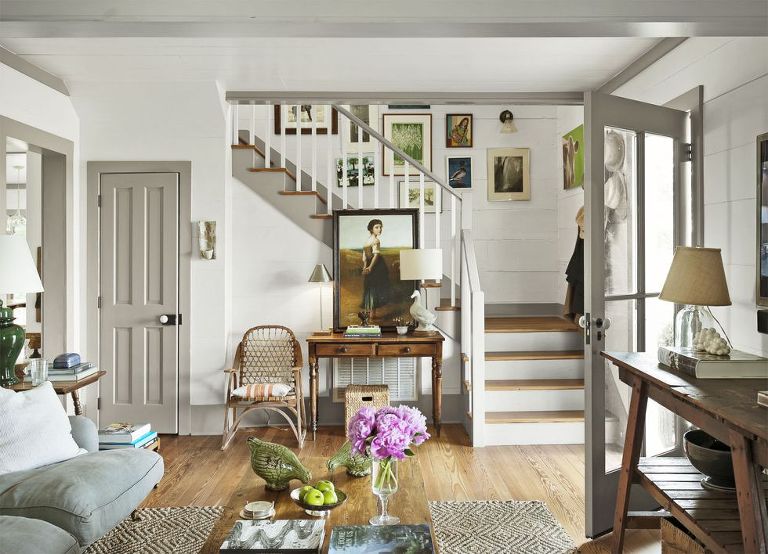 Pale Pink – This pretty pink isn't just for little girl's nurseries anymore. It feels all grown up when the color is just right like this VERY light shade. Try Happenstance by Portola Paints.
Misty Blues – I'm not sure what it is about this blue but it feels so timeless. Almost like an heirloom all in itself. Try Borrowed Light by Farrow & Ball.
Dusty Blush – This color is differnet but exudes peacefulness and tranquility. With hints of gray, purple, and brown, it really is unexpectedly beautiful. Try Emerging Taupe by Sherwin Williams.
Gravel Gray – This is my latest color obsession. I recently painted the paneling in my husband's music room this color and we couldn't be happier. It completely transformed the room. Try Gravel Gray by Benjamin Moore.
Charcoal – Bold and beautiful. This color is a showstopper and really can make a statement. Try Blackish by Clare Paint