Do we really live in a world where even plants can be on trend or on their way out just like that latest "It" bag? Yes. Yes we do. Even before an Instagram hashtag could propel a plant to interior design stardom, "It" houseplants have been coming and going in style for decades. Remember the ficus of the early 90's? How about the succulents of the 2000's? With the ushering in of a new decade there is also a new crop of plants that are poised to be the next breakout design star. One thing all of these plants have in common….they are BIG. Scroll down to find out which tree is forecasted to be this year's break out star!
Weeping Fig aka Ficus
If you grew up in the 80s or 90s, you know what kind of ficus I'm talking about. It was probably in your parent's home. Or if you've ever been in any office building ever… then you know the plant. But this time around, there is something different about the ficus. What makes this plant feel so right now is the dramatic height of the tree. The weeping fig can grow upwards of 98ft in the wild so imagine the drama of this thing if you let it GROW. Large trees taking up entire corners of a room have become THE focal point… and well, that's the point. Fun Fact: The NASA Clean Air Study determined that this plant was effective at removing common household air toxins formaldehyde and xylene.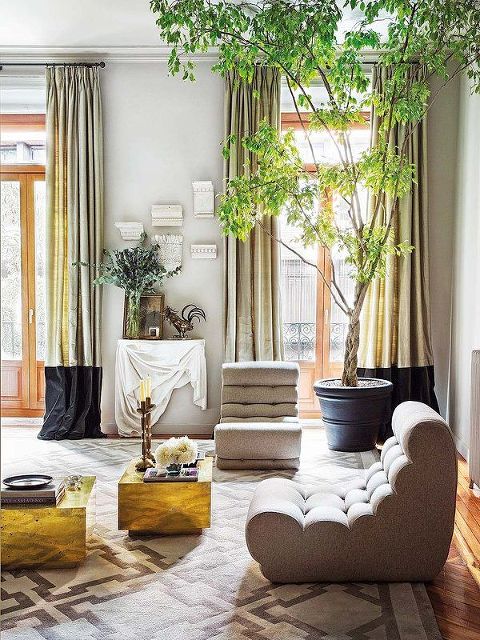 via Casa Vogue
Indoor Olive Tree
It doesn't get much chicer than the olive tree. Their delicate branches bring whimsy to a room & transport you straight to the Mediterranean. Also known for their height, the indoor olive tree is a great option for filing up large spaces or rooms with high ceilings. They love good light & are picky about their soil. So read up on them before you take the leap.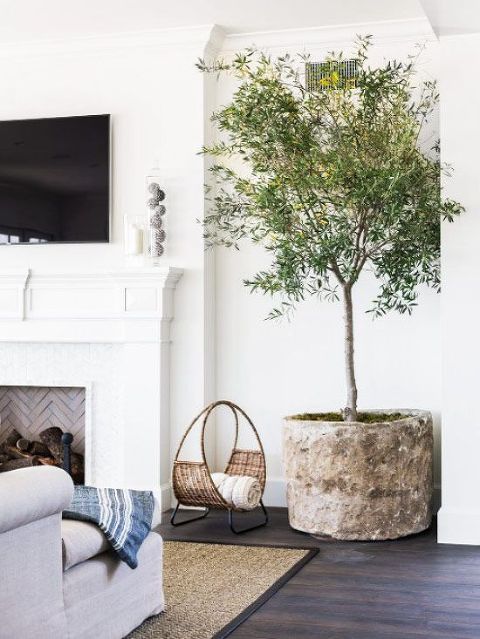 via Camille Styles
Rubber Plant
The rubber plant is a great alternative for those you like the look of the fiddle fig but are looking to branch out (pun intended). This tree feels a bit tropical with it's shiny, oval leaves. It is also easier to care for than most indoor houseplants. And just like the others on this list, the rubber plant can grow upwards of 50 ft making it the perfect statement making plant.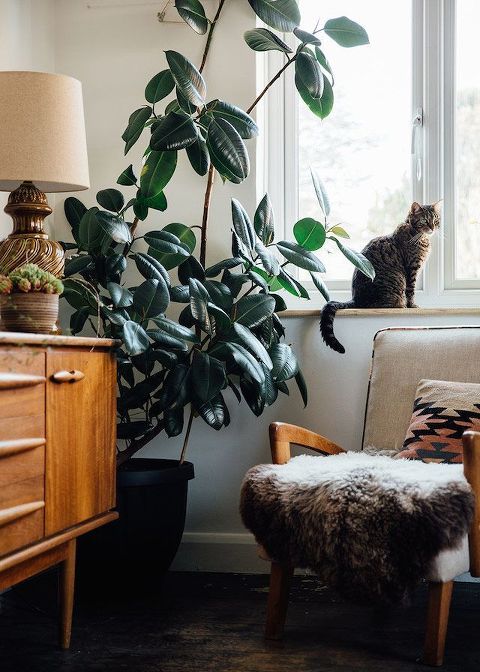 via Lobster & Swan
Fiddle Fig
Ahhh… the most famous of them all, the fiddle fig…made popular by Instagram somewhere around 2014. In case you are wondering the fiddle fig is still going strong, gracing spreads in Elle Decor & Architectural Digest. Its easy to see why they are are popular. With their towering heights and dramatic leaves, this houseplant is also fairly easy to care for. However, their popularity seems to be waning a bit due to the mass amounts of overexposure… I can't believe I am saying that a plant is on its way out… but I am and again, I blame Instagram.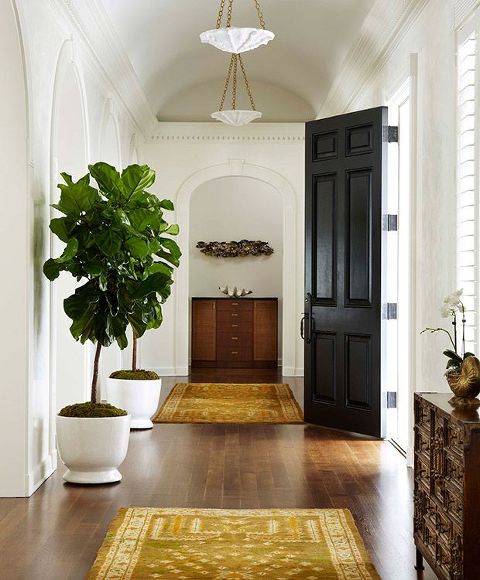 via HGTV
Yucca Plant
The yucca plant is a wonderful option when choosing a statement making indoor tree. Their interestingly sharp leaves seem as though they are a cross between and palm and a cactus. But they are actually a perennial shrub. Attractive and very easy to care for, the yucca is a cool addition to any space.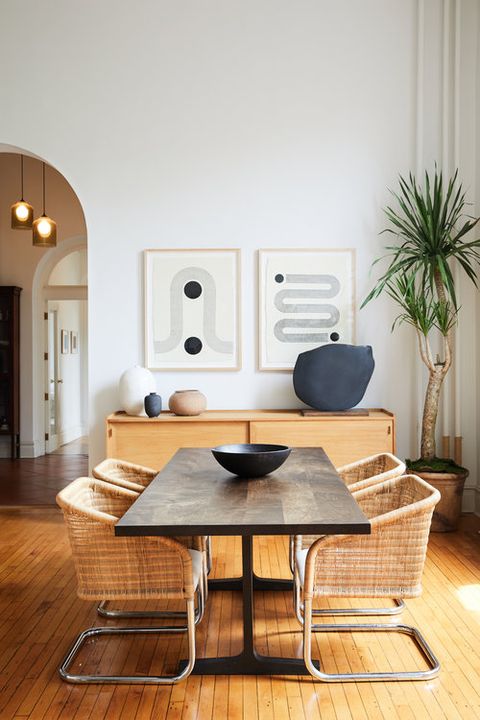 Birds of Paradise
Feeling tropical vibes!? These large palms will transport you right to Miami. With their oversized banana shaped leaves & towering heights its no wonder these pretty plants are making waves in interiors this year. Their beauty does come at a price as they are a bit harder to grow indoors, requiring abundant sunlight and lots of humidity.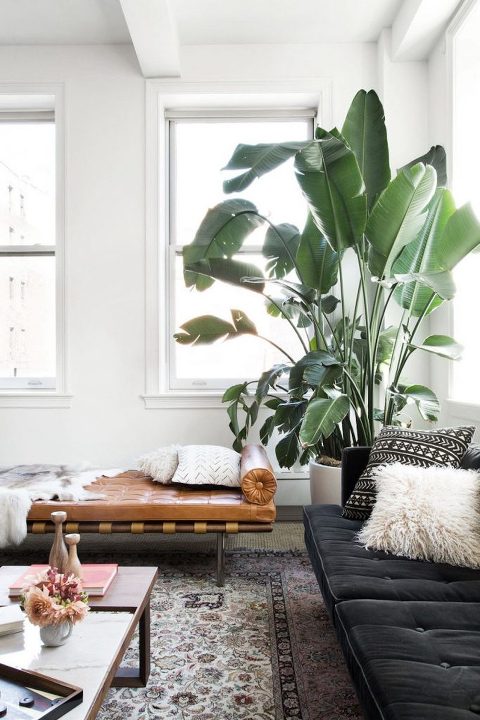 via Designers.net
Indoor Citrus
Design experts agree that the indoor citrus is this years break out star! With it's poppy colors of orange, yellow & green these cheery little trees add life to any space! Plus it's fun to have your very own citrus garden right on your countertop. But design enthusiast beware… these cute little guys aren't easy to care for. They need a specific combination of light, water, humidity & fertilizer to thrive indoors.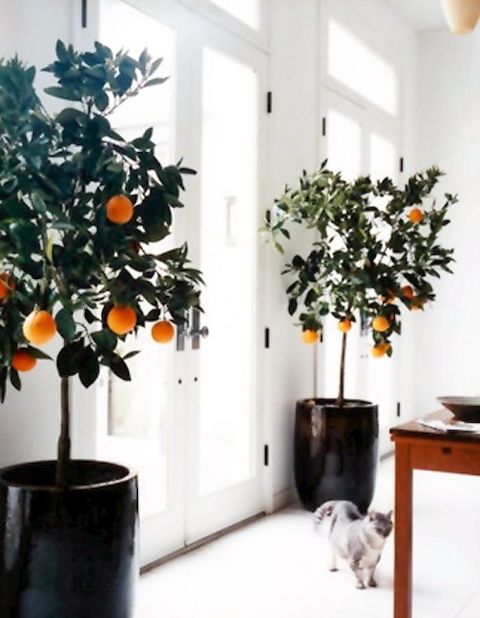 via The Gardenista