Watching a space come to life right in front of your eyes is what makes this job so awesome. When you have a vision for a room and the pieces start falling together just like you envisioned makes the months and months of working toward the finished product so worth it. Not every room comes together this easily. But I am pleased to say that our primary bathroom really did. And I'm even more excited to share the reveal with you today.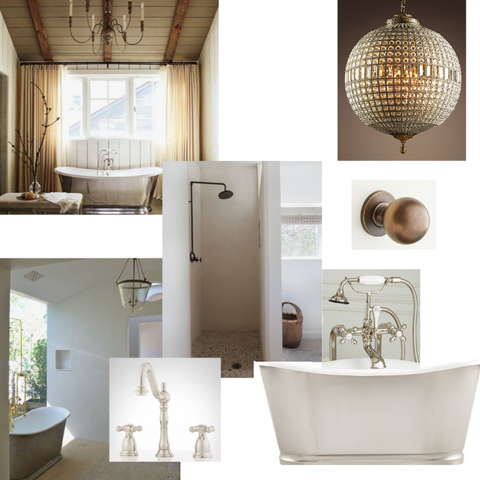 This was my design board for the room. I knew I was going to use vintage lighting, vintage doors, this Signature Hardware Bathtub and a mix of plaster & paneled walls. I wanted the space to feel luxe without being over the top, traditional, without being too trendy. Looking back on this design board reminds me of what went into designing this space and how lovely it all turned out.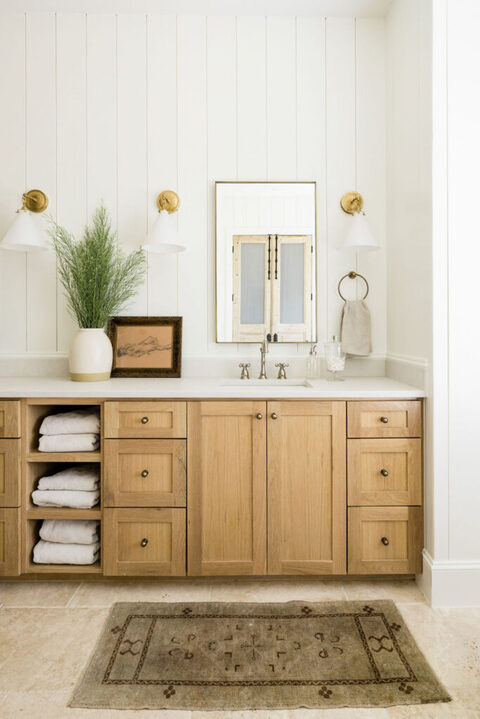 For the custom white oak cabinets, we went with a very natural stain. I wanted the grain of the white oak to show and for them to feel as light as possible in the space. The brass knobs were the first thing I picked out for this bathroom. I just remember seeing them and knowing that I would be using them here. I ended up using them in a few other rooms as well because I just loved them so much!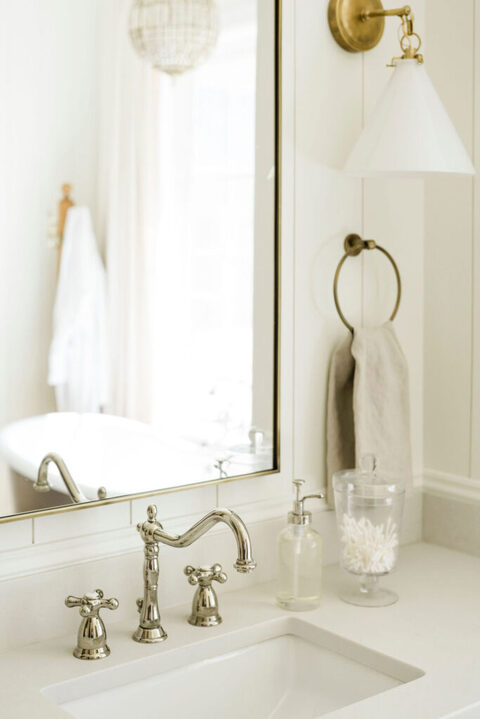 Victorian Widespread Bathroom Faucet in Polished Nickel
For the faucets, we went with a this beauty in polished nickel. I loved the feminine shape of the water spout and the masculine vibes of the cross handles. The mix of the masculine and the feminine elements really works in this bathroom since it is shared by my husband and I. And speaking of mixing… I loved mixing the finishes in this room. Mixing metals feels fresh and reminds me of layered jewelry.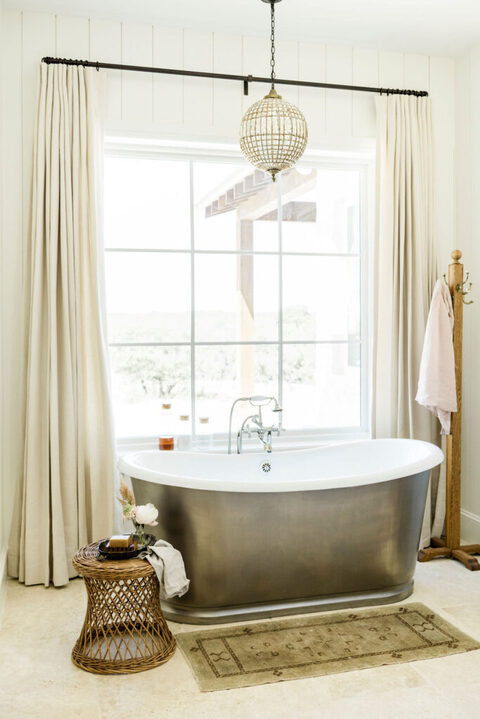 The cast iron silver tub is the statement piece of this bathroom. I knew the moment I saw it that it was this or nothing! Placed in front of the large picture window and paired with some vintage lighting and drapes, this tub is what dreams are made of. Now, if only i could keep my kids out of it so that I could actually use it!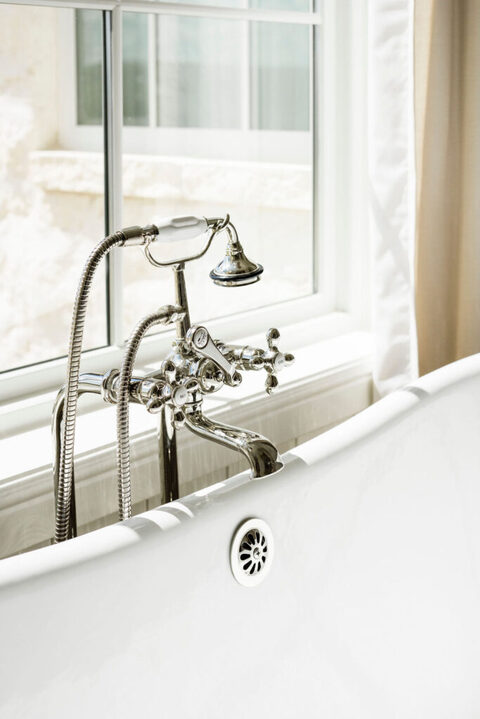 Traditional Telephone Tub Faucet
The freestanding telephone tub faucet is the perfect compliment to our sink faucets with their cross handles and feminine lines. I love how it also has a hand held shower head that can help me rinse all the bubbles off of little booties.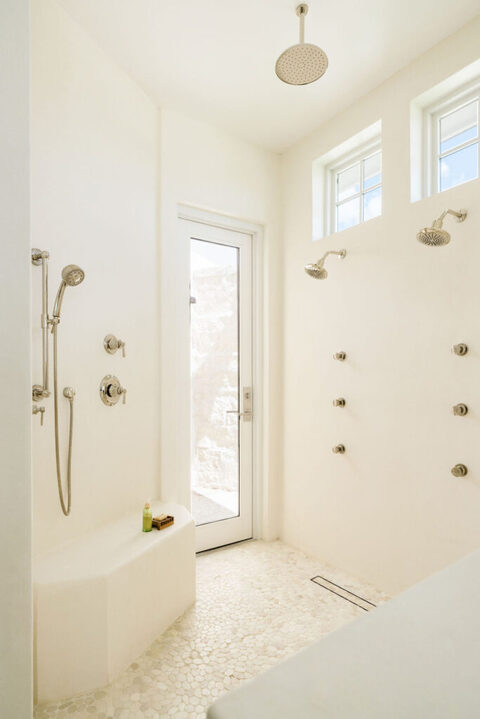 Traditional Round Swivel Body Sprays / Edenton Shower Heads / Traditional Rainfall Shower Head
We really wanted to keep the shower as simple as possible. No crazy, trendy tile to compete with with fixtures. We opted for a simple river rock pebble on the shower floor and we plastered all of the shower walls. I learned that this form of plaster (marmorino) is in fact water proof and I LOVE the simplicity of it. We added this rainfall shower head because my husband loves it. But the truth is… we mostly shower outside. The door in the shower opens up to an outdoor shower and it's outside where we shower the most!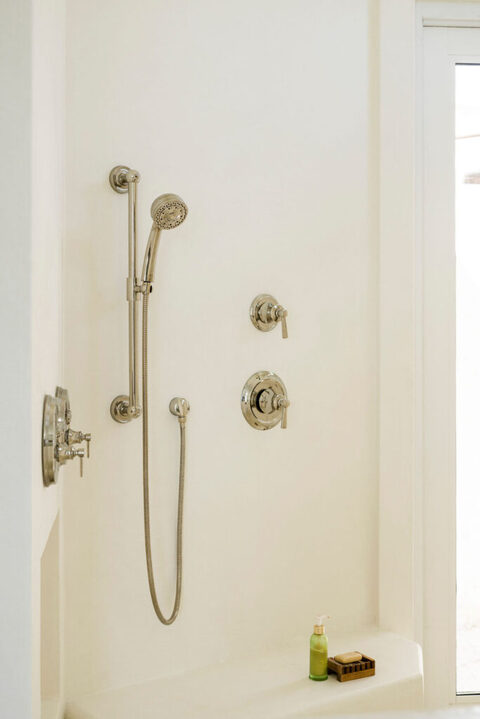 Traditional Multifunction Hand Shower
We kept things traditional with this multifunction hand shower in a polished nickel. There's something about polished nickel that feels really warm and also feels timeless. And when you have two dirty little boys like we do… these hand showers are very handy (pun intended)!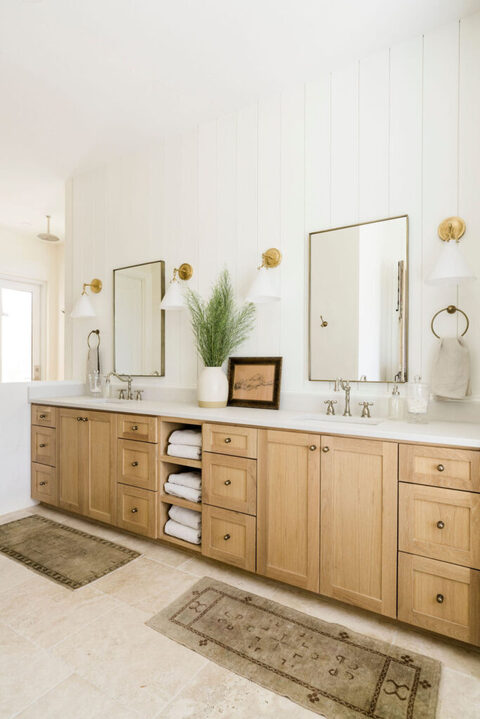 Two little vintage rugs that I found in Round Top complete this space. They add a little extra interest to the room even though they are still in the same neutral color palette. They also help to warm up the travertine floor tiles.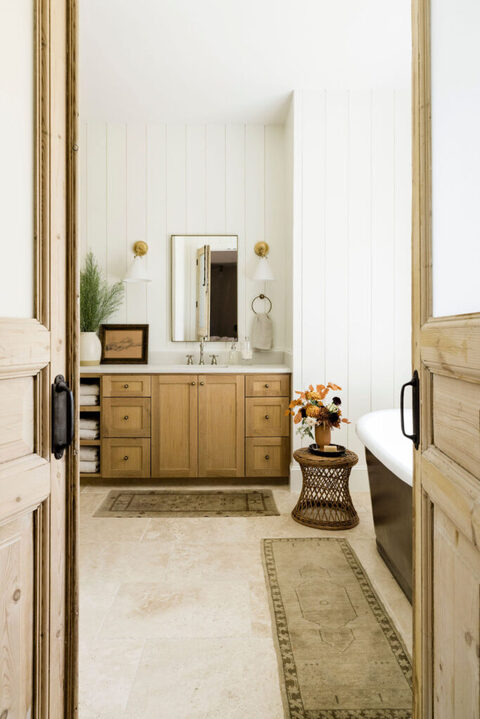 I hope you enjoyed the tour of our primary bathroom. It's been a true labor of love. From the gorgeous Signature Hardware fixtures to the vintage lighting and even the vintage doors, this space came out better than I could have ever dreamt.