There were so many elements that go into a kitchen design. It has to be really functional & utilitarian but also beautiful. And pulling off this space was no easy feat. Some of the design elements worked out, some were epic fails and some turned out better than I could have imagined. To read more about the initial design plan, you can check out this post here. But today I want to share with you how it all turned out!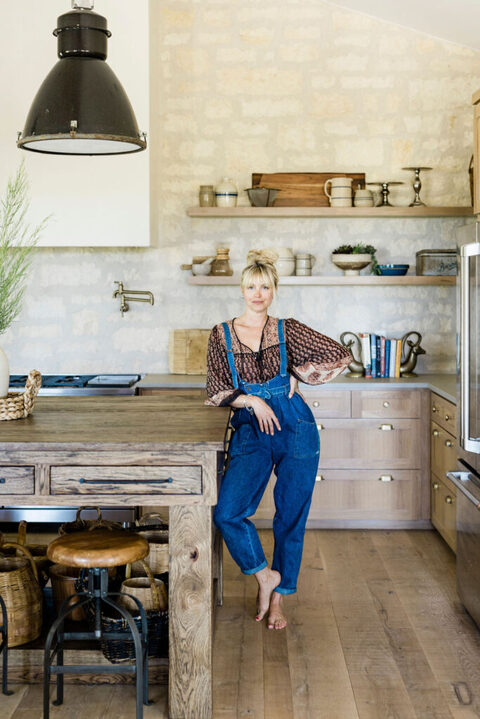 I had a very clear vision of this space. I was very inspired by old German farmhouses from the turn of the century. I wanted it to feel rustic and timeless. I chose neutral colors so that it could change with the season by just swapping out a few accessories. And it was important for me to bring in some vintage pieces to give this kitchen an old world charm.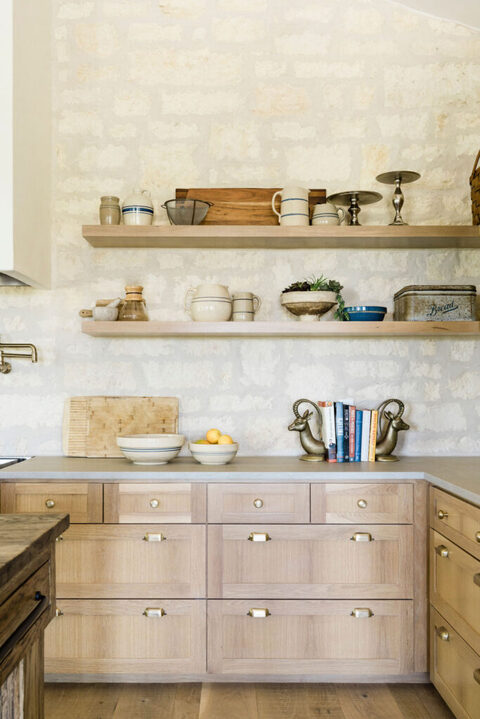 I never envisioned tile for a backsplash. It always had to be stone to give it that German farmhouse feel. We went with a cream limestone and a white mortar. It's sloppy and not perfect… just the way I like it and the way it would have looked 100 years ago. To modernize the space a bit, I went with these antique brass cup pulls from House of Antique Hardware.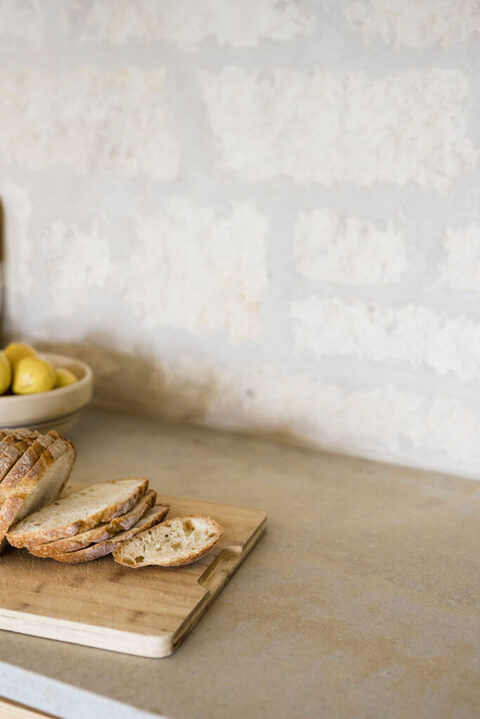 We are hard on our kitchens, so it was important for us to make sure that whatever material we chose for our countertops would be extremely durable. Which is why we went with quartz. I super clear about wanting the countertops to be as natural looking as possible. I opted for Primordia from Caeserstone because of its concrete look. I love how the light rust colored veining makes this look like it's been stained from years of use.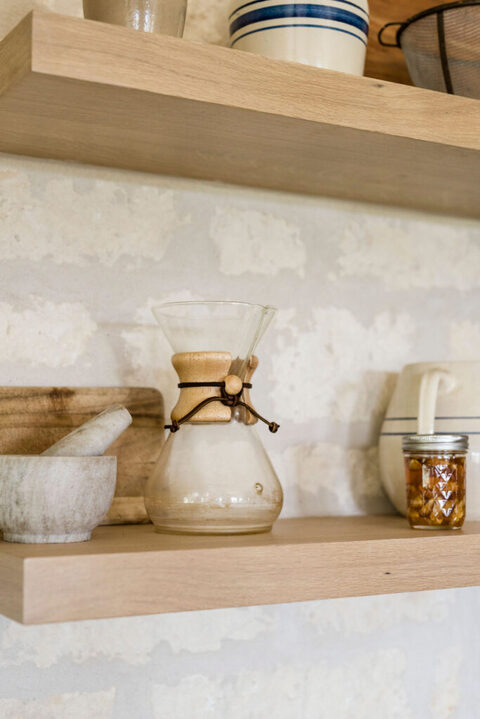 Because I have a collection of vintage mixing bowls and kitchen ware, I knew I wanted to do open shelving so that I could display all of my treasures. The open shelving was also a great way to break up all of the cabinets.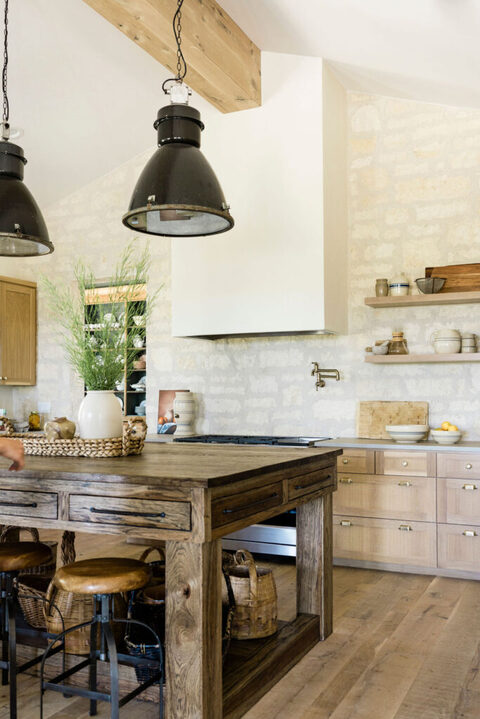 The vintage kitchen pendant lights are from Nomadic Trading Co in Round Top. They were originally built for factories in Eastern Europe and they are what give this kitchen it's wow factor. Plus, they were surprisingly well priced!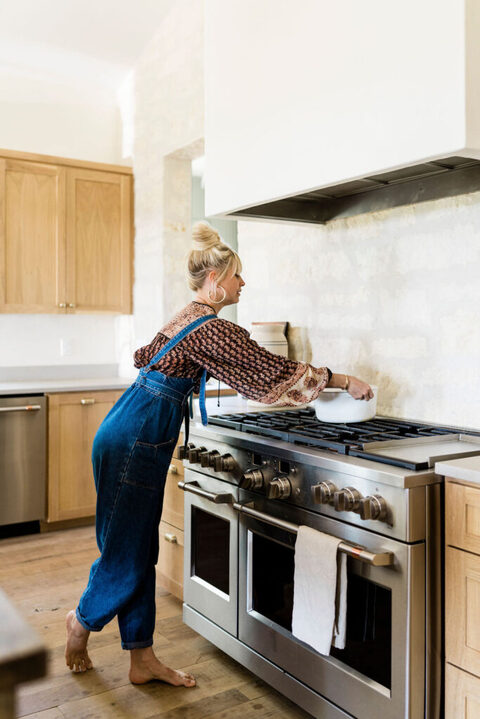 We went with GE Cafe Series appliances for all of the appliances in the kitchen. I love their traditional feel. I also love that you can customize their colors. They have a wide variety of colors and finishes to choose from.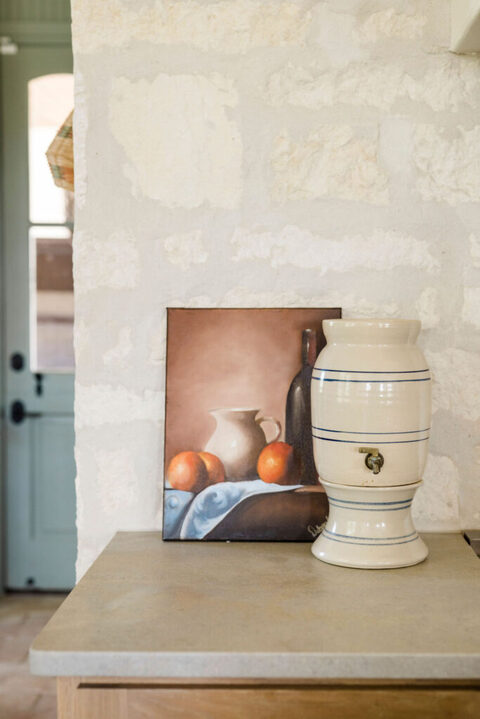 A painting from my stepmom is the perfect addition to our kitchen. I love having special pieces in and around where you cook. And since we spend so much time in the kitchen, it's great to be reminded of the people and the things that you love.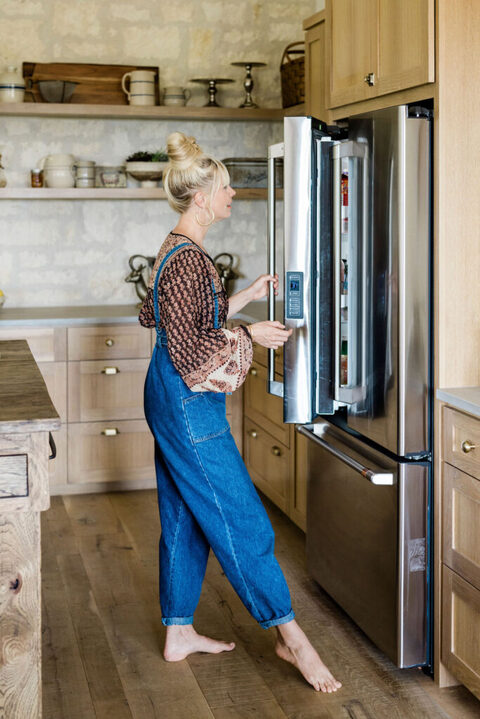 The flow of the kitchen turned out better than I could have asked. The appliances & cabinetry wrap around the large kitchen island and it's easy to navigate with kids, dogs and toys.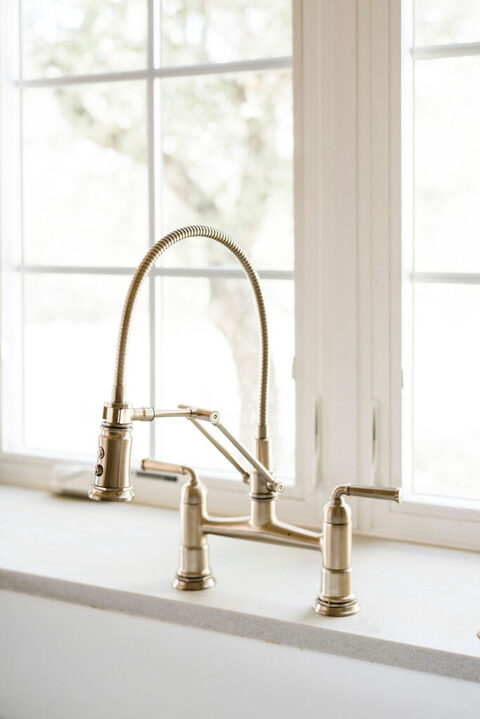 The faucet is from Brizio. Its one of the first pieces that I picked out for the house. I remember seeing it and falling in love with it immediately. It's the perfect compliment to the more vintage elements of the space.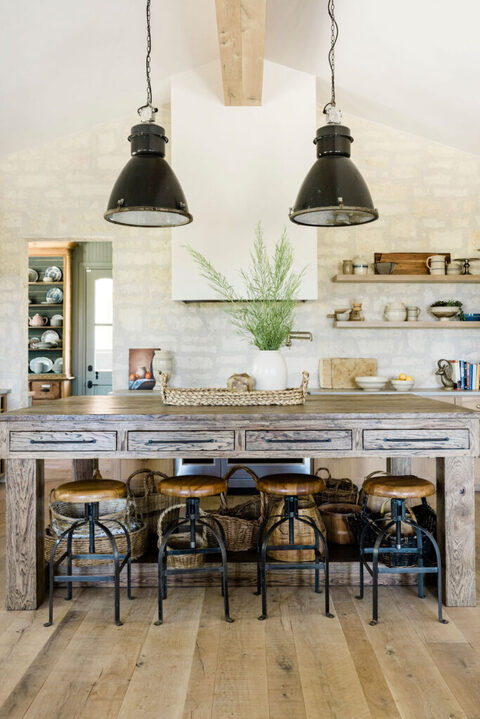 And finally… the kitchen island. If you've been following me for awhile, you know that I found the PERFECT vintage kitchen island that was actually an old factory work table. The only problem with it was that it was COVERED in lead paint. So I had Chevin from CK Ranch Works make me a new one. I designed it too look like the vintage one that I had found. But we updated it with drawers and electrical outlets. I'm so glad I went this route! It turned out awesome and its the piece that I get the most compliments on in the kitchen.
I hope you enjoyed our kitchen reveal and I hope it inspires you to mix in the old and the new to make something truly special and unique.
All photos via Madeline Harper