Interior paint trends change as quickly as fashion trends these days. Sometimes, it feels hard to keep up! Still painting everything white & gray? Its time to shake up that boring color pallet! Read on to hear what's in store and what's on trend when it comes to paint. And it's not just the colors we are talking about… it's also how we use them! Break out your shades because 2022 is going to be BRIGHT!
The Color GREEN
Green of any hue is the break out star of the new year. Paint brands from Benjamin Moore to Sherwin Williams are naming their color of the year some shade of GREEN! Over the last two years, designers have been incredibly inspired by nature. With everyone being forced inside, the obsession with bringing the outside in has never been stronger. This probably has something to do with why green is enjoying it's moment in the sun. Green also evokes a more traditional feel… something that has also come back in to style as people have been searching for a more comforting, cozy feel to their spaces.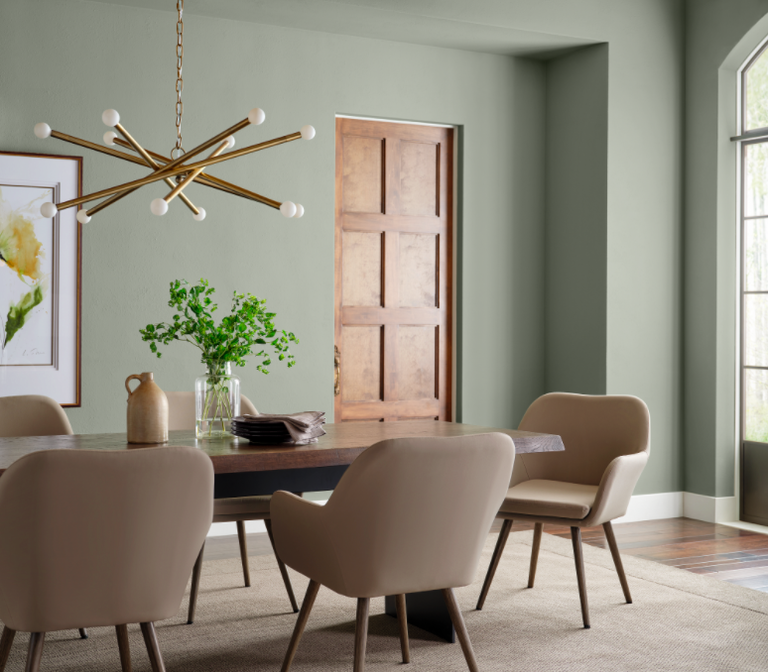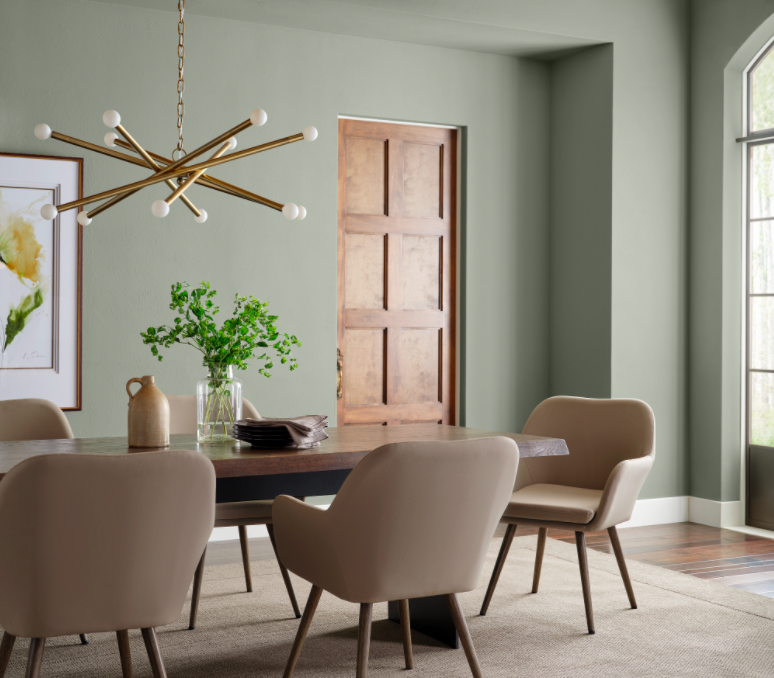 Photo Via Sherwin Williams
2. Painted Ceilings
Go big or go home… or just Go BIG in your home! Want to make an impactful statement in your space? Paint the ceiling. Ceilings in the past have been mostly overlooked. Its easy to paint it white and move on… who's looking up anyway? Well, now everyone is. Look to any design account, magazine or blog and you will see that ceilings have become another opportunity to make a statement. From beams, to bead board and even wallpaper, ceilings aren't to be overlooked. Painted ceilings are a great way to bring the eye up and make your space feel al little more elevated.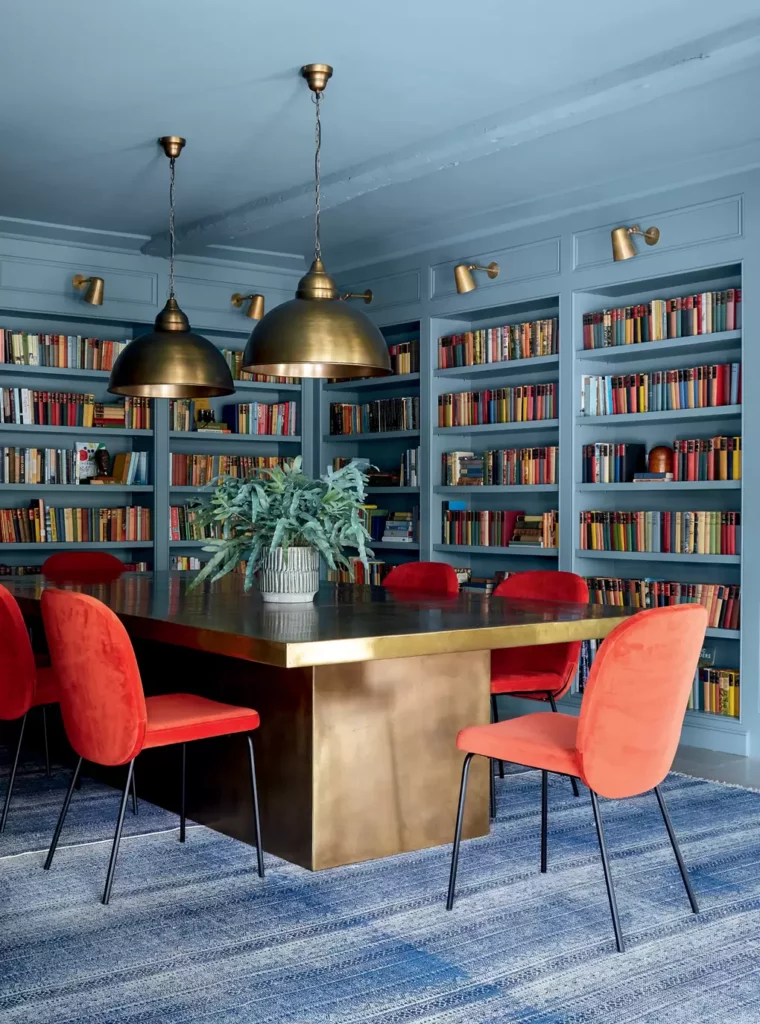 Image via Paul Massey for House & Gardens
3. Flip the Script on Wall & Trim Colors
There's a new take on wall & trim color. In the past, it was very common to see color on the walls with a simple contrasting white trim. This idea is getting a modern update that surprisingly feels somewhat nostalgic. By adding a darker color to your trim, you are still getting the cleanliness of the white wall but you are also getting a sweet hit of color that makes your space a little more interesting. For me this trend also feels a little traditional lending itself to the old world vibe of English cottages and countryside farmhouses.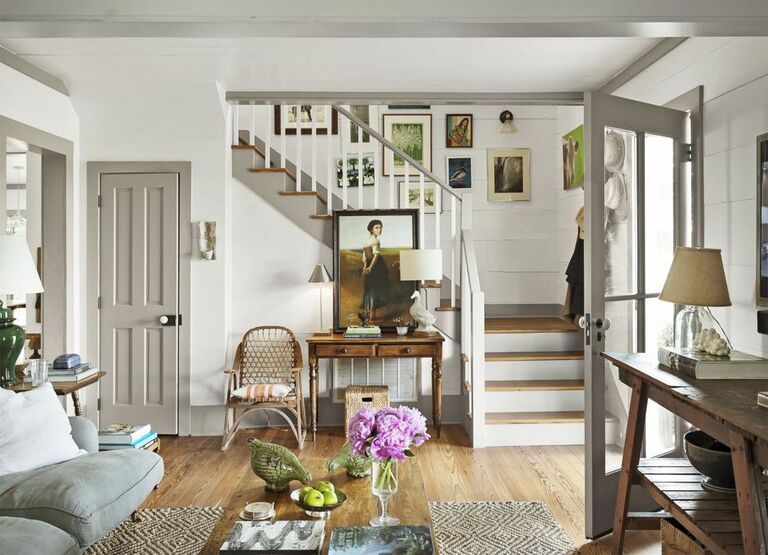 Image via Country Living
4. Bold Colors
Gone are the days of white walls and white kitchens. 2022 is all about COLOR! All kinds of color… big, bold, beautiful, COLOR. I love this trend. It feels fresh and fun. What's your favorite color? Go for it!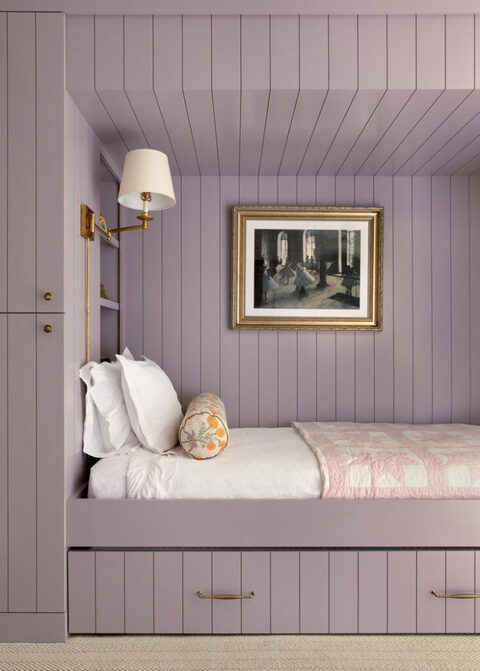 Image via Shannon Eddings
5. Plasters
Plasters are making a huge impact on interior walls these days. A nod to a time when building materials lasted hundreds of years. There is something warm and captivating about a plastered wall. Not to mention the natural movement of the pigment gives that boring drywall an organic twist. This look can be achieved by different types of paint, applying actual plaster or even wallpaper!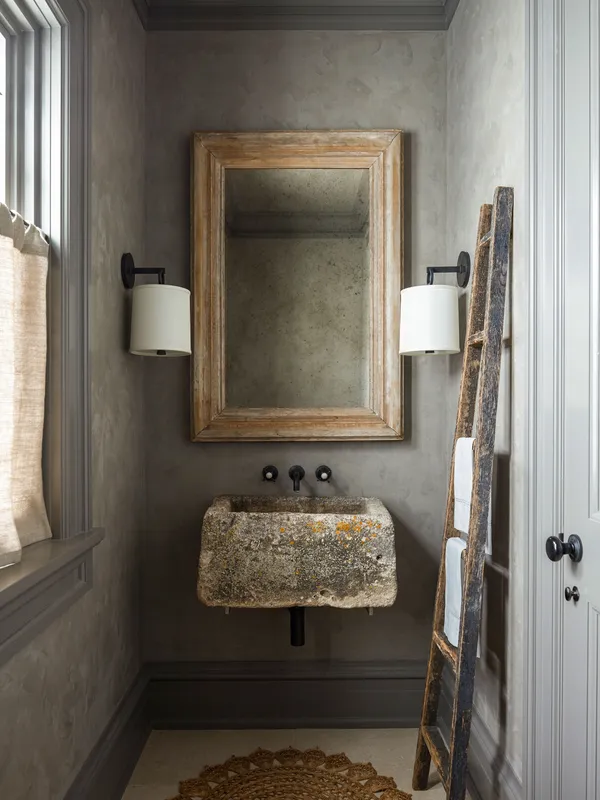 Image via Architectural Digest
6. Warm Whites
Not everyone is moving away from whites. Whites will always be a classic when it comes to interior wall colors. However, their undertones have changed. In previous years, cool/gray whites where the most popular leaving the warmer whites and even beiges to feel dated. That's been completely reversed now. In fact, it is the warm whites with yellow, creamy or beige undertones that are taking over.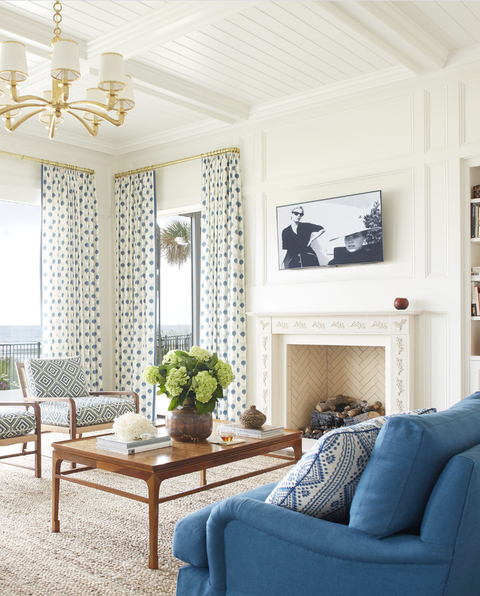 Image via Max Kim Bee for House Beautiful
At the end of the day, it is your home and you are the one living in it. So, if you don't keep up with the latest trends who cares. If you home brings you joy… then you are right on trend!