When we started this project the only thing we knew is that we wanted this home to feel like it had been there forever. We wanted people who drove by to be unable to tell when the house was built. We were inspired by so many kinds of homes and so many different styles. But at the end of the day we knew that it had to be some kind of farmhouse since we live in the Texas Hill Country. We also knew that we wanted it to be made from as many local and native materials as possible.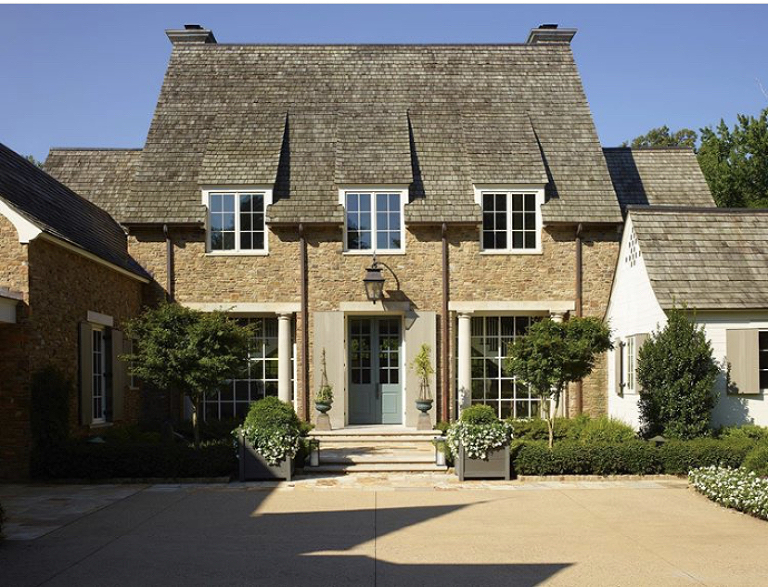 When we first started designing this house I was (and still am) obsessed with Patina Farm. It's a european style farmhouse in Ojai, California and it is incredible. But as we dove into the needs of our family I started to realize that a European farmhouse wasn't exactly going to make sense for how we live. One day I was scrolling instagram and I was immediately drawn to this image. I tagged our architect, Barron Custom Design in the image and the next thing I knew, our architect had used it to design the front elevation of our new home!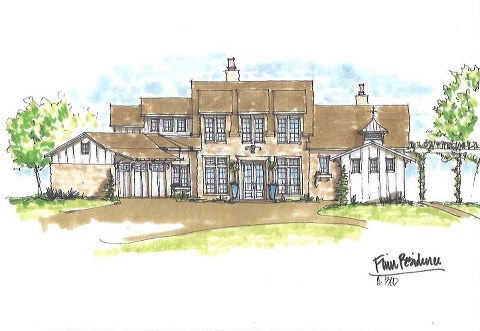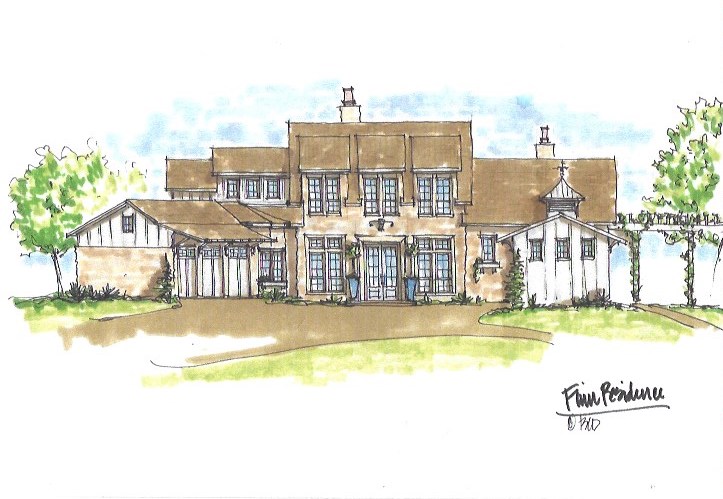 It turned out better than I had imagined. Of course, there were some small things that needed to be addressed but overall the vibe of the home felt timeless and traditional which is what we were going for.

After some reworking to make it more symmetrical and adding a front porch, we settled on this as a front elevation. Now that we have decided on what the home is actually going to look like, it's time to dig into the exterior details.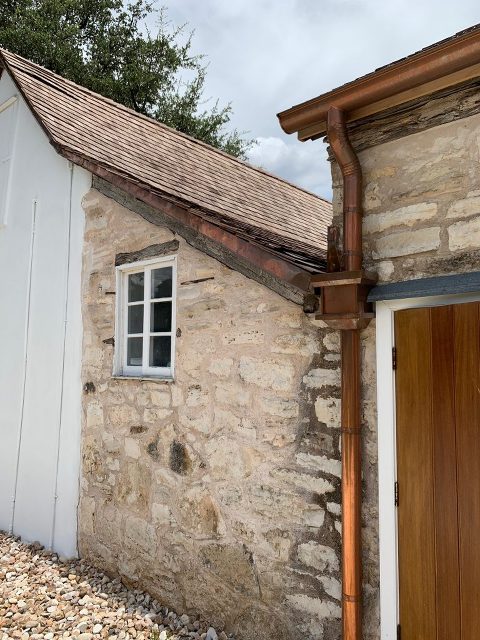 A few months ago, when we began dreaming up this project, I loaded up the family and set out on a day trip to the pioneer museum in Fredricksburg, Texas. I was hoping to get some inspiration for our new home by studying how the original farmhouses in the area were built so many years ago. What I found was that a limestone with a schmear (or heavy mortar) was exactly the direction we wanted to go for the main exterior of our home. I also fell in love with the original cedar shake roof. Unfortunately, real cedar shake is no longer widely used because it is susceptible to fire. However, now they make a product that looks like shake tiles but is made from a composite which is MUCH safer.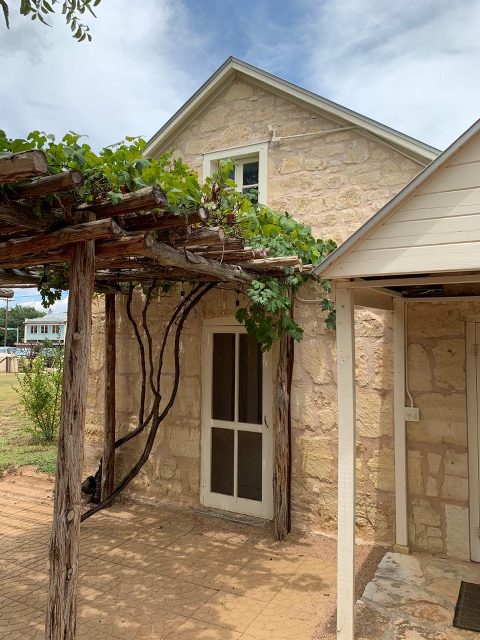 We also loved the natural cedar pergola with the vines that were growing all around it. Since we have about 2 acres worth of cedar that we cleared and saved for projects exactly like this, this feature will be a piece of cake.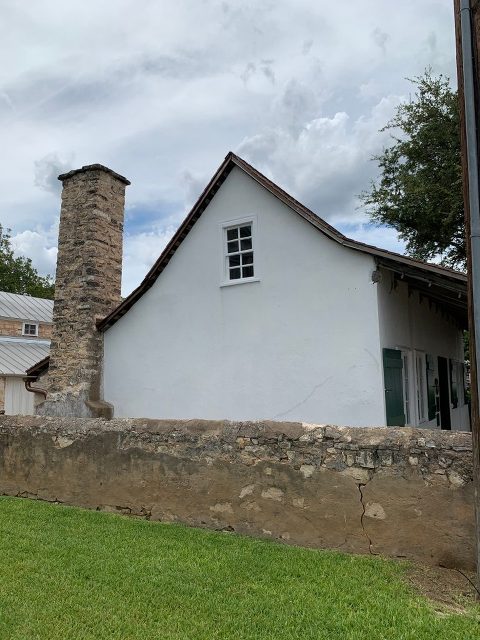 Finally, to compliment the stone we decided to go with a white stucco. The porte cochere, my husbands studio and our garage will be finished in this way. I even love how to white window blends in with the white stucco.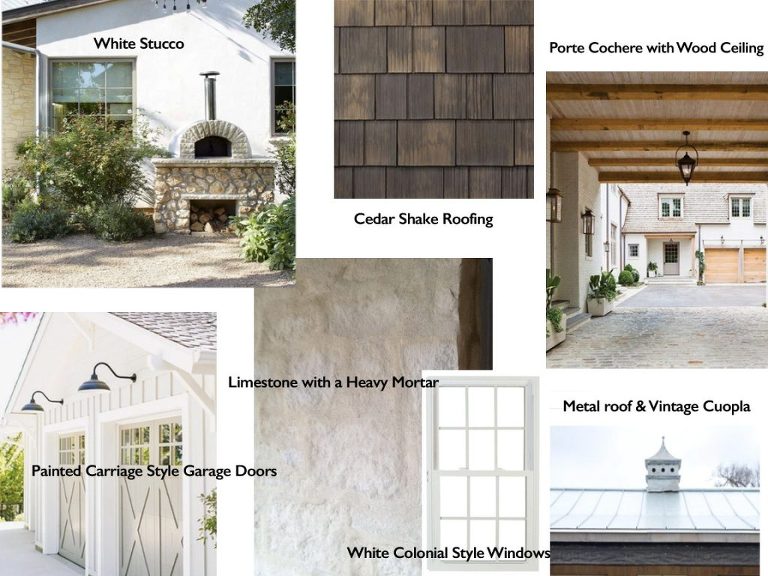 I put together this vibe board for our exterior selections. Of course all of this is subject to change but I think we are on the right track. My biggest design dilemma thus far has been window selections. But I found this article to be incredibly helpful in making our decision. After a TON of debating we landed on the 100 series from Andersen Windows in white.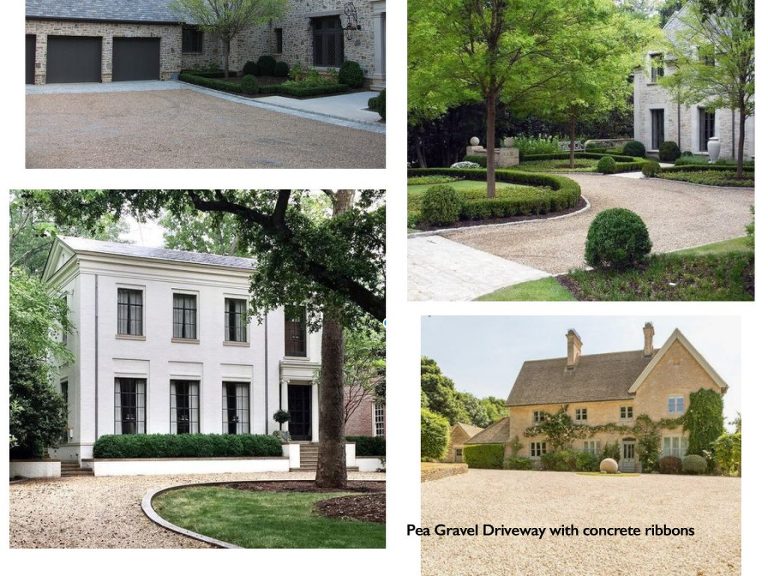 The idea for the driveway was to keep it as natural as possible. We don't want a huge concrete driveway leading up to the house. Instead we are looking for something that feels a little softer and using a pea gravel with concrete ribbons seems like the answer. Plus we are saving money by not using all that concrete.
That's pretty much where we are right now. The foundation work has begun and hopefully we will get to start framing before Christmas! WOW! For more updates make sure you follow the #FinnFamilyFarm on Instagram.