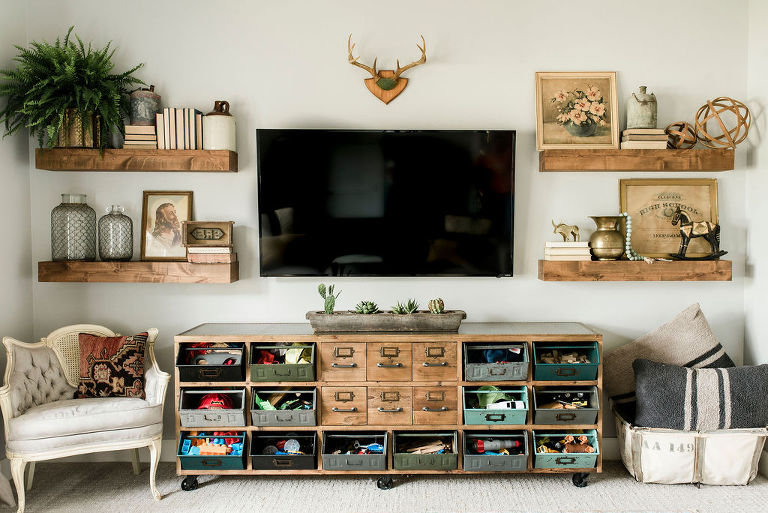 There is no way around it…life with kids is messy. So, how do you live chic-ly while also dealing with the clutter? That's the problem that I tried to solve when designing this space for my own family. It was a real balancing act between bringing in the vintage elements that I love and incorporating good storage options that made sense for this multi use space.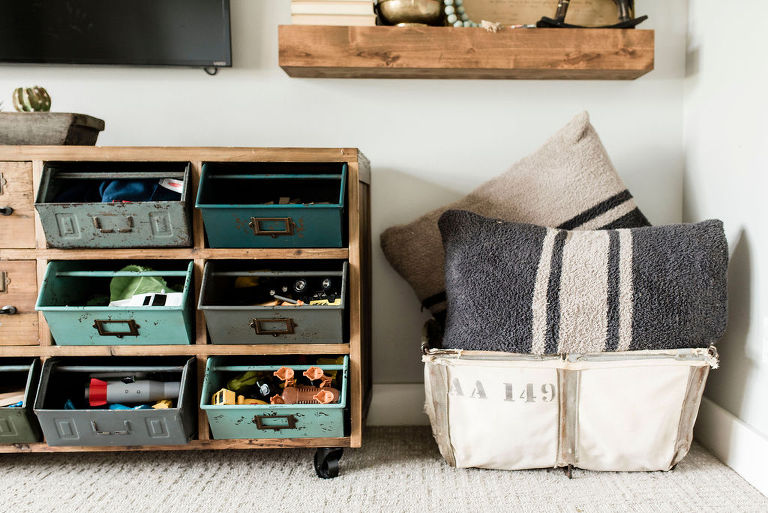 My first tip for blending toys into your design is that baskets and bins are your best friends. I already have an obsession with vintage baskets. They are just that thing that I can't pass up. Some women collect shoes and I collect baskets. I have to admit that its come in handy lately! Take this old army bin. I found it at a junk store in the small town that we live in. The colors were perfect for the room, but even more important is it holds our oversized floor pillows.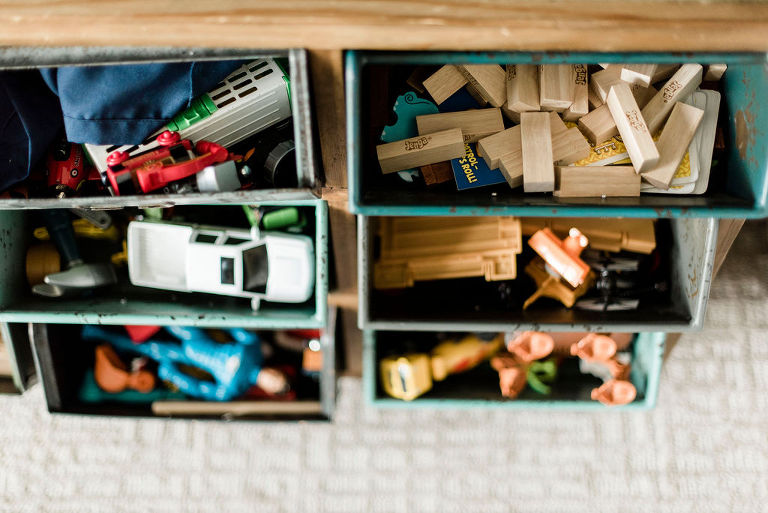 The next thing that is important in a dual use space is to look for furniture that can also be multi use. I had oringinally wanted to get an old chicken nesting box to store the toys in but I couldn't find one large enough. So, I decided to get something new and now I get so many compliments on this sideboard. It is from Dovetail furniture from Furniture Land South. Unfortunately, this piece looks to be sold out. But what I loved most about it was the vintage patina & of course the storage bins. It's beautiful and functional.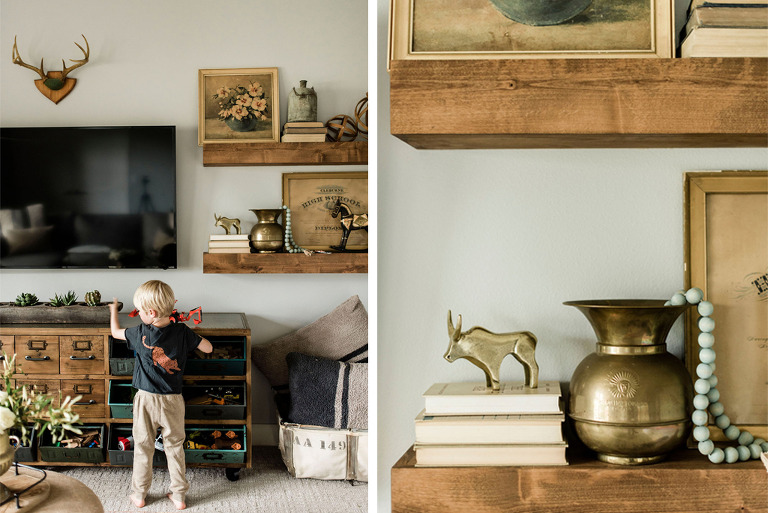 While functionality is a priority, it is also important not to loose the soul of the room. Which is why I loved bringing in vintage elements into this room. From on old spittoon to a diploma from 1918, second hand elements make the room feel loved and lived in. Even the remotes live on a vintage silver tray. Which is just proof that even something as ordinary as TV remotes can feel special.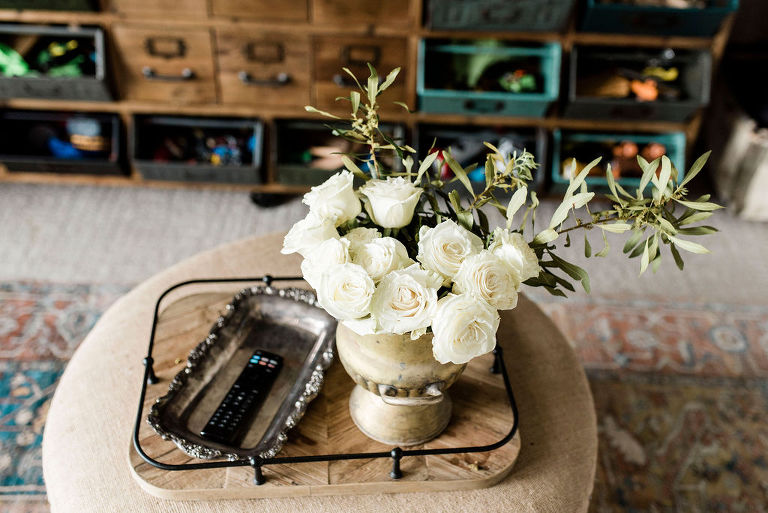 I am also a big fan of rugs on top of carpet…especially in high traffic rooms. And I'm pretty sure there is no room more high traffic in our home than this playroom. In fact, I learned this the hard way. Not long after we moved into our home I noticed the carpet looked terrible. Between milk stains and dirt stains, I entertained ripping it all out. Even deep cleaning it didn't help. So, I bought an inexpensive but pretty rug from RugsUSA.com and called it a day.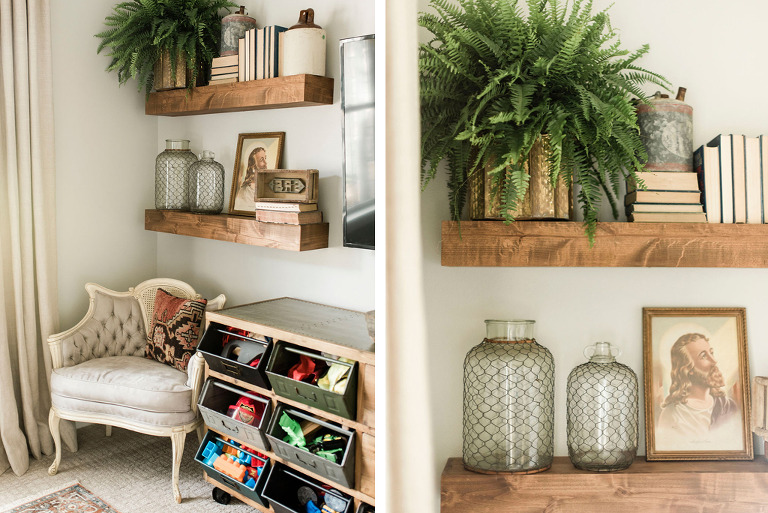 Our playroom has a little bit of something for everyone and that's how I envisioned it. It's part pretty / part practical and that's what I think is most important in a well lived space.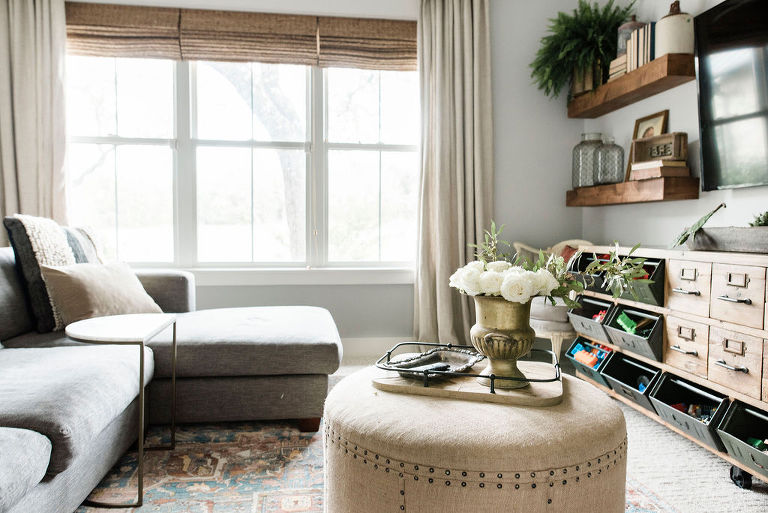 Happy Hunting!