I've teamed up with some awesome moms to chat about what is in our diaper bags! When I first got this topic.. I thought to myself "I don't even have a diaper bag!" And it's true! I've never actually had a designated "BAG" to devote to all the things baby. Usually, when we are headed out I will just throw his stuff in my purse or in the pocket of his stroller. But of course, I do have a few favorite items that we never leave home without!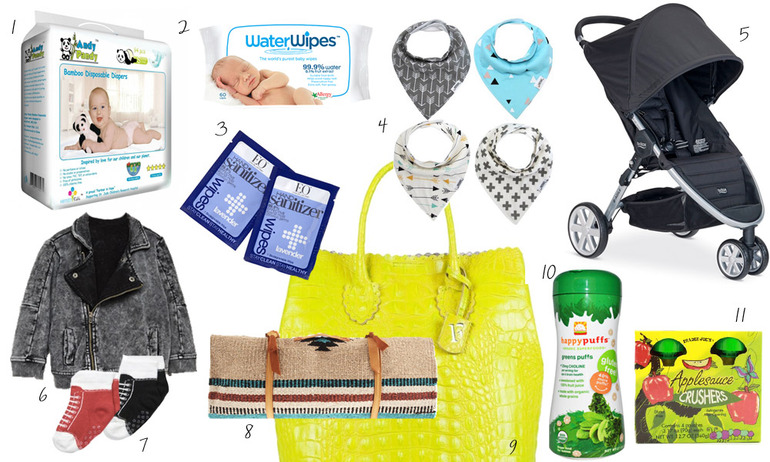 1. Andy Pandy Diapers: These diapers are my ABSOLUTE FAVORITE! When Ford was born, I ordered 3 different kinds of diapers to try when we brought him home to see which we liked best. Andy Pandy was by far my favorite. They are made of bamboo so they are super soft. They also have that helpful little stripe down the front so you can tell when you baby is wet. Plus they are free of all those nasty chemicals and they are eco friendly! And if that wasn't awesome enough.. a portion of their proceeds go to support St. Jude's Children's hospital. AHHHHHHMAZZZING.
2. Water Wipes: I love these wipes. They are perfect for sensitive skin and free of all the chemicals usually found in wipes.
3. EO Lavendar Hand Sanitizer Wipes: The personal hand wipes are really nice and perfect for a mom on the go. Plus, they make me feel fancy. The lavender scent is just enough to reset the senses after any kind of dirty diaper!
4. Cool Bibs: Ford is at the age where he is insisting on feeding himself. It's pretty hilarious but also really messy. So, if he is going to where a bib, at least these are funky and cool.
5. Britax B Agile Stoller: This is the stroller that we are using. It has really been great for us. It's got a big zipper pouch where I usually store all of my diaper bag goodies. I just wish the space underneath were a bit bigger. But for the price, it's been an awesome choice for our family.
6. Moto Sweatshirt: I don't usually carry a change of clothes for Ford. Instead I just make sure to have a little jacket to throw over him if he gets cold or he completely destroys his top. I love this one from Zara! It looks like something his Dad or I would wear!
7. Sneaker Socks: I try to always keep socks with us when we go out. Socks are just so cozy and I love that these look like sneakers!
8. Chic Changing Pad: My girlfriend gave my husband this changing pad for our baby shower. We take it EVERYWHERE. And I love that you can just throw it in the wash!
9. Furla Tote Bag: This is one of my favorite purses. I bought it in Paris and it's usually on heavy rotation no matter the season. Which means that this is basically my diaper bag the majority of the time. It's a big roomy tote with a clear interior pocket which makes digging for things much easier. I'm really a throw and go girl! LOL
10. Happy Puffs Snacks: Ford LOVES these puffs! Whenever he is fussy a handful of these little guys cheer him right up! I love the variety of flavors and all the yummy organic ingredients!
11. Trader Joes Fruit Crushers: These little pouches are so perfect for being out and about. They are made with organic ingredients and are a great little snack in between meals.
Check out what my other cool mom friends are carrying in their diaper bag here!
Jen from The Effortless Chic // Amy from Parker, Etc. // Catherine from The Life Styled // Emily from The Refined Woman // Sarah from Sarah Sherman Samuel