Today marks our 3 year wedding anniversary! Time sure does fly when you are having fun.. or are just really busy. In the last 3 years, we've moved twice, had a baby, bought and sold two homes, all while working my booty off on ABC's Daytime show Fablife ! When I look back at the past 3 years of our marriage, I am reminded just how lucky I am to have such a rad partner to rock this life with. However, with all that we've been through, it's also a miracle that marriage is still so damn fun & that we have the time and energy for each other. So, I wanted to share with you a few quick tips that we believe in to keep the love alive and the romance HOT!
I also wanted to finally share the photos from our engagement shoot that we did before we got married. We always wanted to be able to look back at this time in our lives and remember… "Hey, we were cool once!" Shot by the very talented Joe Goger somewhere deep in the desert. *Disclaimer: NSFW*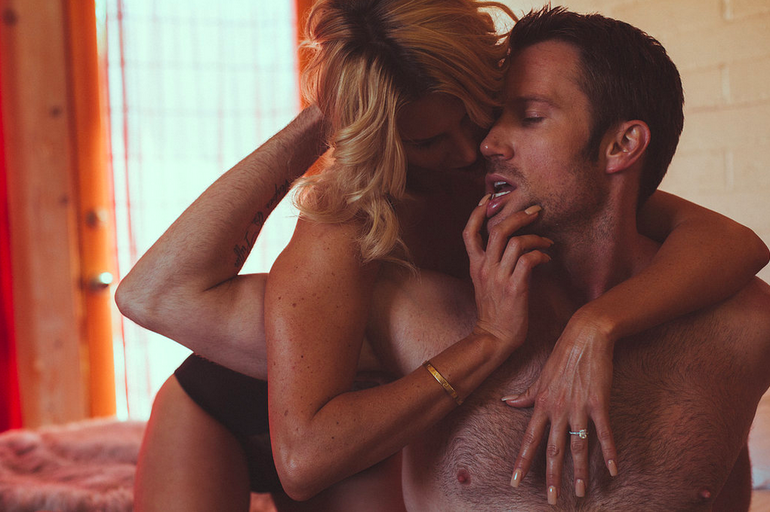 1) Staying fit for ourselves… but also for each other. After the baby, I didn't really feel sexy or attractive. I had gained and lost 40lbs and sometimes didn't even recognize my own body when I looked in the mirror. Over the past few months, I made it my mission to get in even better shape than before having our son. Staying in shape is also something that the hubby and I can do together. It's been a pretty trans-formative process all around. Not only am I liking what I see when I look in the mirror, but when my husband compliments me, I can feel it, believe it and own it. Feeling good about myself & being proud of the hard work that is paying off makes me feel sexy again! And when momma is feelin' her self…. watch out! LOL
2) Small gestures & the importance of spontaneity. From picking up flowers at the grocery store for no reason, to surprising my husband with a night away on his birthday, surprises (big or small) make a huge impact. And let's be honest.. in the hectic world of being a busy parent, foreplay looks a lot different these days. Most recently, something as simple as my husband working hard in the kitchen for our family gathering over the Easter holiday really turned me on. It's those simple gestures that show that you are thinking of the other person and that you are in this together.
3) The opportunity to miss your signifacnt other. Absence makes the heart grow fonder couldn't be a more true statement. My husband and I both work from home so this isn't always the easiest for us. The amount of time that we spend together every day is quite a lot & sometimes I am surprised that we still like each other as much as we do considering. Because of that, we make it a point to spend some time apart every day. Whether it be in the evenings when he will go play his guitar in the garage while I watch bad reality shows, or just running errands separately. Everyone needs a little alone time and it's important to take that time to recharge yourself.
4) Date night seems cliche' but it's important. Before we had our son every night was date night. We loved going out to nice dinners but also loved  just making dinner at home & watching movies on the couch. Now that we are busy chasing our toddler around, it can be VERY easy to get stuck in what I call the "Routine Rut." Every night is the same routine. Dinner, bath, put the baby down, clean the kitchen, get ready for bed, rinse, repeat… you get it. When we commit to getting away from familial responsibilities for a night, we come back recharged, better parents, & better partners. If you can't get away… put the kids to bed early and eat dinner together alfresco…. with wine preferably!
5) Find out what your partner likes and go for it. Everyone has desires, fantasies, sexual predilections and turn ons. Finding out what your partner prefers is a great way to connect. Let the experience of sexual adventure be a fun journey that you embark on together. Surprising your partner by playing into one of their fantasies is a good way to show that you care about their needs and want to please them. It's also a great incentive for the favor to be returned! If all else fails or this makes you terribly uncomfortable… throw back a tequila shot, put on some high heels and hop into bed!

6) Communicate. Seems like a no brain-er but I am seriously surprised by how many couples don't really talk. One of my favorite things about my relationship with my husband is how we communicate. We talk about everything. Of course the important things like family, the future, our dreams, goals… etc. But we also talk about mundane things like "Hey, I'm just not feeling it today.. not sure why but I just need some alone time". Let's be honest, no one is in the mood for intimacy all the time. But by communicating with your partner about how you are feeling & why, no feelings get hurt and no resentments build up. Being so open and vulnerable with your partner is such a wonderful gift so long as they are also open themselves.
7) Never under estimate the power of "I Love You". Say it as many times a day as you can. When you feel it, say it. Send your love a text or an email in the middle of the day just to tell them you love them. It's incredible what those 3 little words can do for someone's day. Life is short.. so take every opportunity to show the one you love exactly how you feel.
Thank you for letting me share my thoughts on how to keep your marriage hot & for letting me share these photos with you. Doing this photo shoot with my then fiance' was so fun and a great way to remind ourselves how much we love each other. Maybe next time you are thinking of doing a sexy photo shoot for your partner… include them in the photos!