We made it! One year down and a lifetime more to go! Just a few weeks ago, the hubby and I celebrated our one year anniversary. We can't believe how fast time flew by! But, you know what they say, "Time flies when you are having fun!" And we really have had a wonderful year. It got me thinking, what is it that makes a marriage work? Obviously, it's different for every couple, but we really have learned a lot this year. Here are our 10 tips for a successful marriage… so far!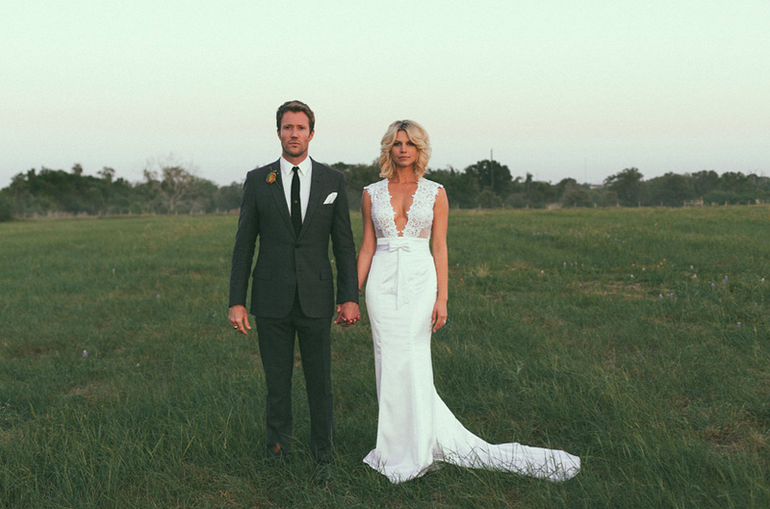 1. Don't co-mingle your finances until you are both very clear on what that looks like & have a plan that makes sense for both of you. My husband and I have opted to keep our finances separate so far. Honestly, it's just been easier that way.  However, in the future we do plan on opening a joint account where an agreed upon percentage of each of our monthly incomes will be combined. Out of this joint account all of our household bills and expenses will be paid. That way we are both contributing equally to our life together. But, we believe that it is important for us to always have our own separate accounts as well. And as a woman, I believe that it is SO imperative that you continue to have something for yourself set aside always.
2. Don't let small issues fester into big blowups. This is huge for us. In fact, we joke that we want to write a book called "Small Bitchin': How to Avoid the Big Blowups". Really it is because we do a lot of small bitching at each other! I know that sounds terrible. But it is actually really awesome. Little issues get addressed immediately, we get over things super quickly and I can't remember the last BIG blowout that we've had. So, if something is bothering you… bring it up, work it out and move on.
3. Do something thoughtful for the other person everyday. This can be as simple as making the other person coffee in the morning, making the bed, taking out the trash or picking up flowers for your significant other when you are grocery shopping. It's those small things that mean the world and really show the other person that you are always on their mind.
4. Don't compare your marriage to any other marriage… especially your parents'. My husband and I both come from very different familial backgrounds. His parents were married for 40 years and passed away within 2 years of each other. His father was the bread winner and his mother stayed home to cater to the family's every need. My parents were both divorced when they got together and then divorced each other when I was 3 years old. Between the two of them, I have seen many boyfriends, girlfriends, fiances and even a stepmother come and go. That really affects how my husband and I both view marriage and the expectations that we have of each other. He wanted a wife to cater to his every need and I am about as independent as they come. We both have had to really compromise and realize that our marriage wasn't supposed to be like anyone else's. Even just knowing that about our backgrounds has really helped us over come our differences.
5. Designated date nights are a must. You HAVE to make each other the priority! If you don't your marriage will surely fail over time. We love getting dressed up for each other and going to a nice dinner. We also love cooking at home, snuggling on the couch and binge watching our favorite shows. Spending quality time together (without your phones!)  gives you time to reconnect as a couple.  And you better practice this now before any children come along, because quality time will become more difficult then but so much more important.
6. Know the importance of a sincere apology. Just say your are sorry!! And MEAN IT. I always tell people that one of my very favorite qualities in my husband is that he is able to take responsibility for his part in any situation and say he's sorry. He's probably better at it than me. But being able to apologize for your part in things makes a huge difference in any relationship.
7. Let the man be the man. I believe in gender roles. Maybe not "the woman should be in the kitchen and the man earns all the money" kind of gender roles. But, there is something very important about letting the man be THE MAN in your marriage. It can be small things like, always putting the reservation under his name, letting him open the door for you, letting him order for you, asking him to help you fix something. The bottom line is that a man needs to feel needed and valued. Don't we all?
8. Don't lose who you are. Don't become one of those couples that isolates themselves from everyone and everything from their single days. Go out with your girlfriends, take a class solo, go on a guys trip, etc. Doing things separate of each other will make your relationship stronger. Not only will you feel like more of a whole person, but you will also have more to talk about when you come back together at the end of the day. This also goes for not getting too comfortable. Go to the gym and stay fit, shave your legs (guilty), dress nice, just keep it sexy people. You want to be wanted and so does your partner.
9. Define household duties. This may seem like it's not that important, but it may be one of the biggest tips we have. If you both know what is expected of the other, it results in less disappointment and resentment. For example, my husband is a better cook than I am so generally speaking that is his job around the house. I really enjoying cleaning (I know that sounds insane) so that has become my job around the house. If he makes dinner, I clean it up. It makes for great teamwork and it puts an end to someone feeling like they are doing the majority of the household chores.
10. Say I love you…all the time. Say it every time you have the urge or it comes to mind. Why wouldn't you!? We must say I love you at least 10 times a day to each other… It doesn't have to be super sick-y sweet all the time. We will just saying it in passing. "Hey, I love you", 'I love you too". Letting someone know they are loved is the biggest gift you can give.
I would love to hear your tips for keeping a relationship going strong! Leave a comment below and let me know!
RELATED POSTS